Orpheum Theatre - Omaha | ,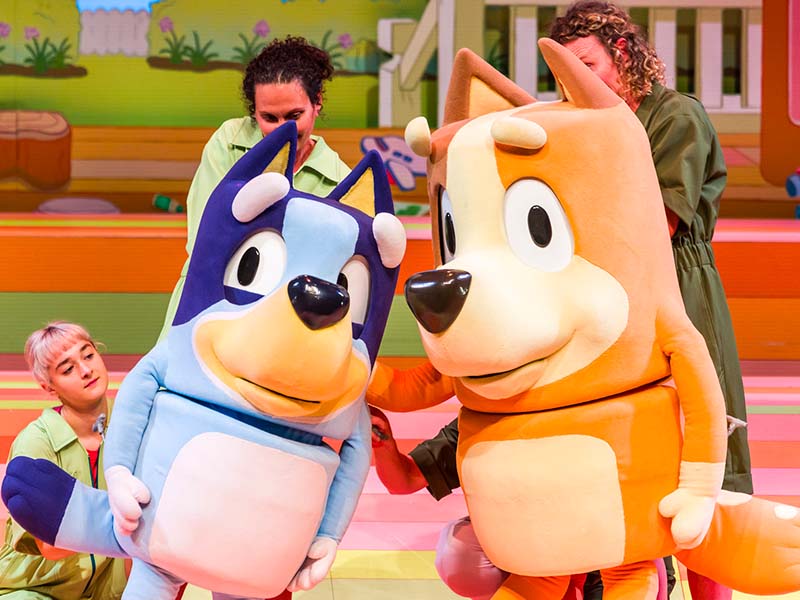 If you're looking to spend time with your family and bring them on a grand adventure, you should mark your calendars for the season's most exciting kid's musical! The stage adaptation of the Emmy-Award-winning TV series, Bluey, is coming to Omaha, and the show is delivering everything that your kids love about the charming family! On Saturday, 14th October 2023, Bluey's Big Play will take over Omaha's Orpheum Theatre for a one-night spectacle! This incredible musical will let you meet all the characters, such as our favorite blue dog, Bluey, his sister Bingo, his dad Bandit, and his mom Chilli! Bluey's Big Play will feature new music by original show composer Joff Bush, as well as an original (never before seen) story by Bluey Creator Joe Brumm! If your kids love Bluey, this is your chance to see the TV show come to life! Hurry and secure tickets now for a great family bonding experience!
Bluey is an Australian TV series that premiered in 2018. The show was created by Joe Brumm and produced by Ludo Studio, based in Queensland. The fairly new show has aired over 151 episodes across three seasons. Bluey features a six-year-old blue heeler puppy who is full of energy, curiosity, and imagination. Bluey lives with his sister Bingo, his father, Bandi, and his mother, Chilli. The show often promotes imaginative play, and the brother and sister embark on adventures together. Bluey has won an International Emmy Kids Award and two Logie Awards for Most Outstanding Children's Program. Bluey is now being broadcasted in several countries, including the U.S., Canada, the U.K., and more. The show has also expanded to books, merchandise, and the latest endeavor, the stage show.
Bluey's Big Play is not just your ordinary musical featuring puppets. The show has a groundbreaking production using state-of-the-art light and sound systems and a brilliantly created set design. The show's puppets are actually life-sized and controlled by remarkable puppet masters. This type of puppeteering technique differs from the usual mascot-theme characters because people playing with dolls help develop a child's imaginative play. The show has received wide critical acclaim from fans and critics.
The Guardian's Jason Reed wrote, "It's hard to imagine how Bluey's Big Play could go wrong: it has all of the ingredients that make the show so wonderful and a few extras too." He added that Bluey's Big Play is "an incredibly fun, energetic performance but plenty of heart and smart explorations of concepts that are tricky to grapple with for both children and adults."
Meanwhile, another critic over in Washington D.C. witnessed a 2022 edition of the play. She wrote that "Families love Bluey's relatability. I know, people relate to an Australian family of Blue Heeler dogs? The relatability lies in the way the family interacts, the intrusion of technology, and little details like how it can be challenging and busy for a mom who has recently returned to work after staying home with the kids for a few years."
Of all the reviewers who wrote about the show, each one complemented the puppeteering technique used by the show. They also added that the puppets, who look exactly like they do in the show, are expressive and will occasionally break the fourth wall.
Aside from brightly colored characters, the stage set, designed by Jonathan Oxlade, replicated the typical world of a Queenslander with some added touch from the TV show. Critics have also complimented the palettes used for some specific designs, such as Bluey and Bingo's bedroom. Broadway World's critic mentioned, "The story was a beautiful slice of life, as all Bluey stories are, for not just the young and the old. Through his work, Joe Brumm provided a subtle social commentary on the amount of time we spend on our phones, the give-and-take relationship between siblings, childhood naivety, and family dynamics, all bundled into a neat bow. The puppeteers were excellent, mirroring the puppets' expressions, mannerisms, and movements from behind them."
Catch Bluey's Big Play at the Orpheum Theater - Omaha on Saturday 14th, October 2023! Tickets are now available!