Orpheum Theatre | Omaha, Nebraska
American blues-rock king Joe Bonamassa is back for an extensive US tour, bringing his alluring blue hits to the stage at Orpheum Theater – Omaha on Friday, 5ht of August 2022. The sensational guitarist, singer, and songwriter highly acclaimed as one of the greatest guitar players is known for his signature blues-rock tracks is set to amaze fans once again as he dominates the stage on his new set of tour dates. Don't miss out on Joe Bonamassa's hits performed live on stage by booking your tickets now!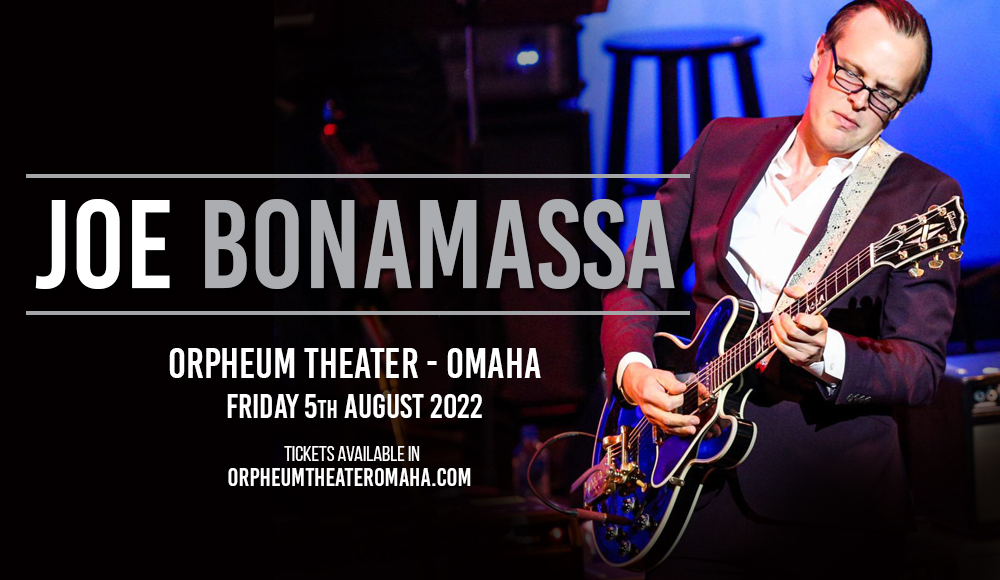 Known for his highly-skilled fusion of rock and blues across his discography of fifteen studio records, Joe Bonamassa is more than just a great guitar player. He also sings and writes his own craft. Emerging in the year 2000, Joe Bonamassa has made great waves in the blues-rock scene, bagging three Grammy Awards nominations. Bonamassa has made himself an essential artist who keeps blues music alive and kicking!
He started playing the guitar at age 4, and at age 12, he opened for B.B. King. While attending school, he would tour across Pennsylvania and New York with his early band named Smokin' Joe Bonamassa.
It was in the year 2000 when Joe Bonamassa released his debut album "A New Day Yesterday" which featured original work alongside covers from various artists including Warren Haynes and Jethro Tull. From then on, there was no stopping the electrifying energy of Bonamassa, releasing fifteen studio albums over the last twenty years.
Some of his notable singles include "Redemption", "Dust Bowl", "I Love You More Than You'll Ever Know" with Beth Hart, "Drive" and "Different Shades of Blue".
Becoming highly acclaimed as one of the world's greatest guitar players, Bonamassa had a moment where he questioned what he really is. ""It was like okay, what are you? Am I a guitar player? No. Am I a singer? No. Songwriter? No. I'm an entertainer," Joe said. "The three things I just described feed into the one thing I think I'm actually good at, which is entertaining."
More than just someone who can strum those fingers on the guitar very well, Joe Bonamassa is a true performer at his core. His live shows never fail to amaze and make fans gaze at his alluring tracks performed live.
"Joe Bonamassa's mix of intricate licks from a master's guitar and punchy vocals accented a virtuoso performance," said Aberdeen Evening Express.
Last 2021, he dropped his newest studio album "Time Clocks" which serves as a testament to Bonamassa's amazing gift of making blues-rock hits. With the clock ticking, it's time to get those tickets now before they run out!