Orpheum Theatre | Omaha, Nebraska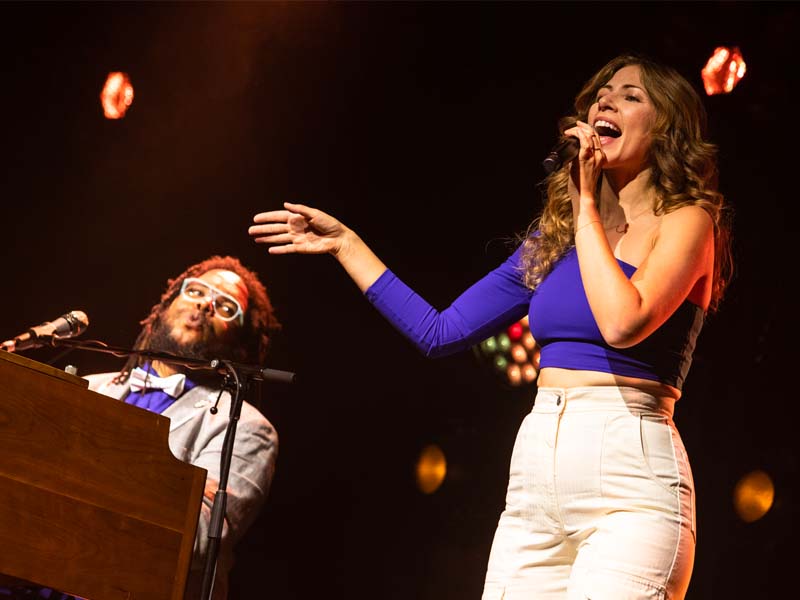 If you have an eclectic taste in music, you better be checking out the highly-acclaimed multi-genre outfit Lake Street Dive! The iconic Boston-born quartet is traversing North America for an 18-date trek! The highly-anticipated outing, titled Gather Round Sounds Tour, will feature the band's semi-acoustic set! Imagine seeing Lake Street Dive on an easy-going type of production. It's as if the outstanding band is performing right in your living room! On Tuesday, 14th November 2023, Lake Street Dive will be making their way toward Omaha for a one-night spectacle at the Orpheum Theater! This concert guarantees to deliver some of Lake Street Dive's outstanding hits, such as "Bad Kisses," "You Go Down Smooth," "Better Than," "Rich Girl," and many more! Moreover, the band may cover some new material from their latest EP, Fun Machine: The Sequel! If you want to catch Lake Street Dive's rare semi-acoustic set, you better score tickets now to their show at the Orpheum Theater - Omaha!
Lake Street Dive's new headlining tour for fall is one of their most highly-anticipated events of the year. This 2023, the band will deliver an entirely different set from what fans have been used to. As usual, the quartet will showcase their tremendous versatility by performing a wide variety of genres, such as pop, soul, alternative, jazz, indie, and folk. Since its inception in 2004, band founders Rachel Price and Bridget Kearney have always made sure that their music showcases their influences. Lake Street Drive is now reaching their 19th year in music. This fall, they're delivering a stripped version of their set.
The Gather Round Sounds Tour aims to have an easygoing atmosphere. Imagine Lake Street Dive at NPR Music's Tiny Desk Home Concert – except the band is performing right in front of you at the Orpheum Theater - Omaha. During the tour announcement, there were no specifics on what to expect from their setlist. But those who have seen Lake Street Dive during regular full production in the past should consider seeing them again in this unique setting.
Undoubtedly, the list of songs will include hits from their breakthrough effort, Bad Self Portraits. The career-defining album was their first entry into the Billboard 200, after all. The 2014 work spawned several notable staples, such as "Better Than," "You Go Down Smooth," and the title track – all of which remain among Lake Street Dive's most popular tracks.
Aside from Self Portraits, the band is highly likely to bring some hits and fan favorites from their subsequent releases, including Side Pony. The 2016 album, which featured "I Don't Care About You" and "Call Of Your Dogs," became their first record to hit number 1 on Billboard.
Lastly, fans can anticipate newer hits from the band. In 2021, Lake Street Dive released their latest album, Obviously, which not only garnered high praise from fans and critics but also entered the top 10 of Billboards Top Rock Albums. The album spawned the band's new hit, "Hypotheticals," which became the highest charting single of their career when it reached number 2 on the Adult Alternative Airplay chart.
Catch Lake Street Dive in their easy-going element as they perform at the Orpheum Theater - Omaha for their Gather Round Sounds Tour. Tickets to their show Tuesday, 14th November 2023, are now available!