Orpheum Theatre | Omaha, Nebraska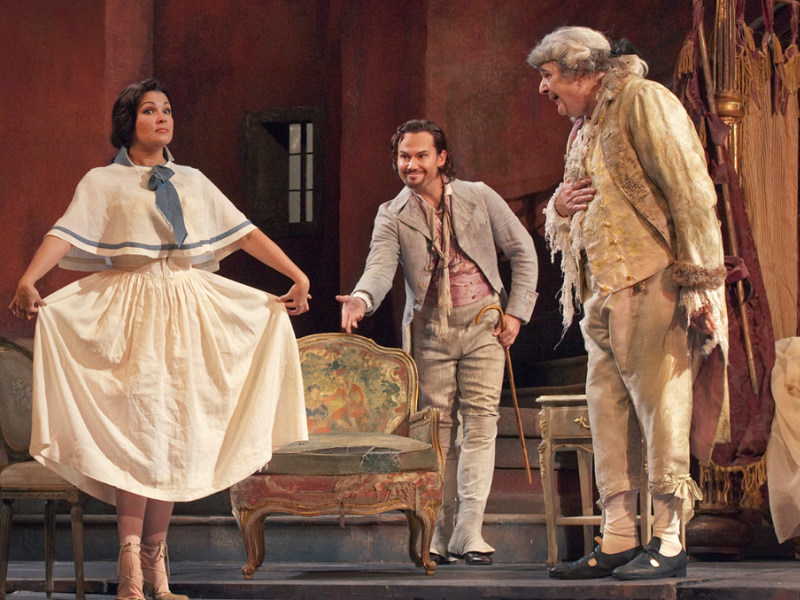 The Opera Omaha presents Don Pasquale at the Orpheum Theater on Friday, 27th October this year! With gracefully crafted compositions by Gaetano Donizetti and Libretto by Giovanni Ruffini, this majestic show is a guaranteed must-see for opera fans all over Omaha! Be there alongside the lovable Don Pasquale as you witness his escapades firsthand and accompany him on his complex story, brimming with antics and just the right amount of drama. Baritone Jorell Williams will star in the main role as he makes his Opera Omaha debut, playing the miserly Pasquale alongside other returning artists. Let the vocalists' splendid arias fill the room and soothe you at the Orpheum Theater - Omaha. Transform your ordinary Friday night into an elegant evening with friends and celebrate the quest for true love at the top-performing auditorium in the state of Nebraska! Start reserving your tickets now by clicking the "Get Tickets" link above!
Watch the prestigious Opera Omaha present Don Pasquale at the Orpheum Theatre Omaha for a two-night showing! On October 27th, Friday curtains open at 7:30 PM, while the Sunday show on October 29th starts at 2:00 PM.
The Opera Omaha is an innovative company that produces opera performances in creative formats and styles, all while co-creating artist-led programs for specific community service organizations. This time around, the performing group will present Donizetti's comic opera Don Pasquale as it arrives this season.
Most viewers describe the production as a scintillating and witty story of intrigue mixed with revenge. The plot follows Don Pasquale, an old bachelor who is furious at his nephew, Ernesto, for refusing to marry a bride of his choosing and favoring a penniless widow named Norina. The plot thickens when the bachelor's friend, Dr. Malatesta, puts forward a fictitious sister as the perfect candidate for marriage, yet this "sister" is a character we already know. Be part of the audience to find out how the story unfolds!
Earlier this year, Opera Omaha announced its newest General Director, Allison Swenson, who will succeed Roger Weitz. With twenty years of experience in the field. Swenson shares in an interview her deep appreciation for Opera Omaha, praising its creativity, talent discovery, and previous leadership. Moreover, she feels honored to assume a leadership role and is thankful for the support and warm reception she has received; looking forward to contributing to Omaha's vibrant arts scene.
The creative team will comprise Gary Thor Wedow as the conductor and Octavio Cardenas as the show director, with lighting design by Abigal Hoke-Brady and wig & makeup design by Ronell Oliveri. Their efforts combined helped bring to life the mid-19th century Rome setting of the play.
Also, see the officially announced cast for the upcoming performance below:
Jorell Williams as Don Pasquale
Vanessa Becerra as Norina
Luis Alejandro Orozco as Dr. Malatesta
Miles Mykkanen as Ernesto
Matthew Sommer as the Notary
Don't worry; only the best opera shows are hosted at the Orpheum Theater - Omaha! Plan a trip down Nebraska and witness the impressive lighting and advanced visual effects that the auditorium has to offer. Book your seats now!