Orpheum Theatre | Omaha, Nebraska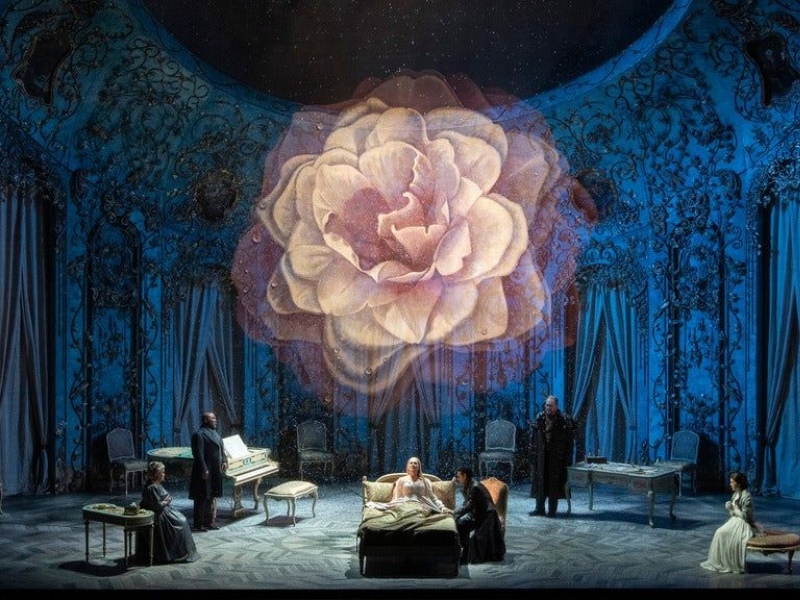 Opera Omaha is eager to present La Traviata, one of Italian opera's greatest feats, at the Orpheum Theatre on February 16, Friday evening. Through the direction of E. Loren Meeker, Giuseppe Verdi's magnum opus returns to life, along with Francesco Maria Piave's libretto based on "La Dame aux Camélias" by Alexandre Dumas fils. The production will play for two performances at the Orpheum Theatre, Nebraska's premier performing arts venue, offering modern amenities with historical grandeur. The story of La Traviata follows Violetta Valéry (Andriana Chuchman), a high-class courtesan in nineteenth-century Paris, who engages in a tryst with nobleman Alfredo Germont (Brian Vu). As their romance buds and blooms, the two must confront the realities of polite society, hoping beyond hope that, in the end, their love will prevail. Aside from our talented actors, the opera will also exhibit a live orchestra conducted by Steven White in three acts of soul-stirring music. Book your seats for Opera Omaha's La Traviata this February by clicking the button above!
Discover how love is found and sacrificed in Opera Omaha's riveting rendition of La Traviata, the 19th-century Italian classic, on February 16 at the Orpheum Theatre. The Nebraska-based non-profit has finalized its 23-24 Season—three historical performances that examine the pursuit of fulfillment through the eyes of its featured heroines.
"Opera Omaha has been bringing in amazing talent from across the country and presenting it to Omahans consistently. I've been to a dozen shows over the last several years and have never been disappointed. Opera Omaha is a jewel for the arts in the Midwest."
The company's second presentation, La Traviata, sings of the scandalous affair between Violetta, a courtesan, and her lover Alfredo, a young nobleman. The story delivers an uncompromising critique of how social conventions play into the dynamics of romance. Can the lovestruck pair escape the judgment of high-class society? Or are they destined to nothing but ire and heartbreak?
"It's no surprise that Verdi's La Traviata is frequently performed around the world. It is one of the best examples of 'Verismo' – a style of Italian opera that focused on realism. Its timeless plot is based on a true story that aims to blur the lines between actors and audiences. "
Directed by E. Loren Meeker, the exhibition also enlists conductor Maestro Steven White to command the full-piece live orchestra. Soprano Andriana Chuchman will star as Violetta Valéry alongside the theatrical talents of tenor Brian Vu as Alfredo Germont, baritone Hyung Yun as Giorgio Germont, and mezzo-soprano Audrey Babcock as Flora Bervoix.
Giuseppe Verdi's iconic opera will be restored to its complete glory, with the original music by the aforementioned composer and libretto by Francesco Maria Piave. The production has organized two dates for February next year, opening on a Friday night in the cultural center of Omaha, Nebraska.
The Orpheum Theatre—one of the country's most distinguished stages—will host the show. This indoor venue proffers the pinnacle viewing experience through its marriage of modern comfort and stunning historical aesthetic suffused in a golden ambiance.
The event is also made possible by major sponsors Omaha Steaks, The Holland Foundation, Nebraska Arts Council, Nebraska Cultural Endowment, and Douglas County.
Reserve your seats soon for Opera Omaha's La Traviata on Friday, February 16, 2024, at the Orpheum Theatre!