Orpheum Theatre | Omaha, Nebraska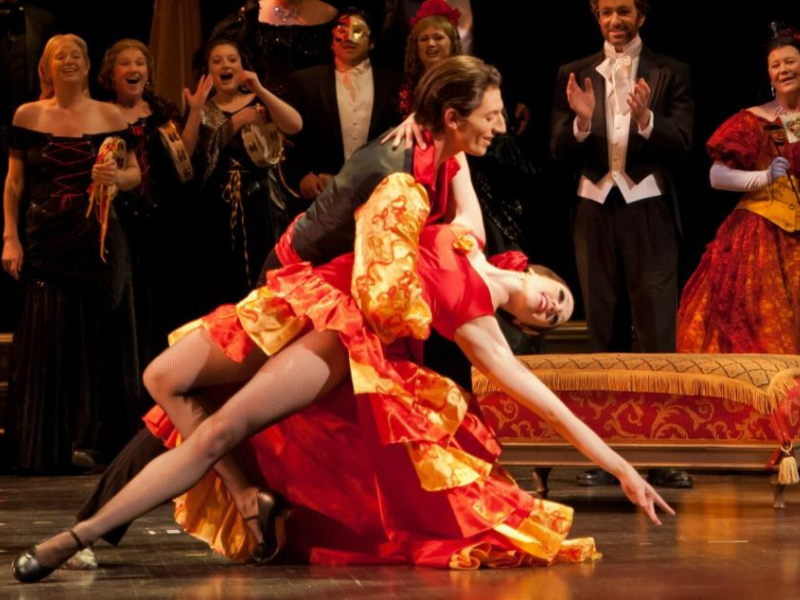 Experience the heart-wrenching tale of Opera Omaha's La Traviata LIVE on Sunday, February 18, at the Orpheum Theatre! Based on "La Dame aux Camélias" by Alexandre Dumas fils, the Italian opus chronicles the fates of Parisian courtesan Violetta Valéry (Andriana Chuchman) and her lover Alfredo Germont (Brian Vu). In three resonant acts—conducted by Maestro Steven White—the two must defy the rules and expectations of high-class society for their budding romance to bloom in full. One of the past centuries' most prolific operas, La Traviata first found the stage lights in 1853 Venice. It's composed by the fabled Giuseppe Verdi, with a libretto by Francesco Maria Piave. This production from Opera Omaha's 23-24 season will present itself in two shows at Nebraska's Orpheum Theatre, a resplendent piece of historical architecture renovated to accommodate modern audiences. Claim your seats soon to see Opera Omaha's La Traviata in the third week of February!
Opera Omaha has announced its lineup for next season: three classical works that engage the nature of fate, each featuring a heroine in pursuit of matters of the heart. Their second presentation, La Traviata, has two dates scheduled, with its final show set for Sunday, February 18th, at the Orpheum Theatre.
"With its beautiful music, compelling story, and accessible melodies, it's no surprise that La Traviata is one of the most popular and frequently performed operas today. Its engaging themes also resonate with audiences, making it an easy introduction to the world of opera."
Indulge yourself in the passion of an affair that was never meant to be. Verdi's enduring masterpiece depicts the tragic romance between high-class courtesan Violetta and young nobleman Alfredo. Navigating the oppressive climate of Parisian society, how much sacrifice will the two lovers have to make? And more importantly, will it be enough?
Andriana Chuchman, Opera Omaha's most compelling soprano, will fill the role of Violetta Valéry, while Brian Vu (Tenor) will star as Alfredo Germont. Supporting our main characters are Hyung Yun (Baritone) as Alfredo's father, Giorgio Germont, and Audrey Babcock (Mezzo-soprano) as Violetta's close friend, Flora Bervoix.
Check back with us soon for the remaining cast announcements!
Born from 19th-century composer Giuseppe Verdi, the iconic Italian work returns to the stage under the direction of E. Loren Meeker. It will feature Francesco Maria Piave's libretto, which is based on the 1852 play by Alexandre Dumas fils, "La Dame aux camélias." As for our conductor, Maestro Steven White will lead the opera's symphonies in three exquisitely sonorous acts. This cultural event also owes a debt of gratitude to the following major sponsors: Omaha Steaks, The Holland Foundation, Nebraska Arts Council, Nebraska Cultural Endowment, and Douglas County.
La Traviata's two-date engagement will find its conclusion on a Sunday afternoon here at the Orpheum Theatre. As storied as the event it will host, the indoor performing arts venue promises a once-in-a-lifetime experience through the melding of historical atmosphere and modern theatrical amenities.
The last exhibition will be on Sunday, February 18th, so make your reservations today to see Opera Omaha's La Traviata LIVE at the Orpheum Theatre!