Orpheum Theatre | Omaha, Nebraska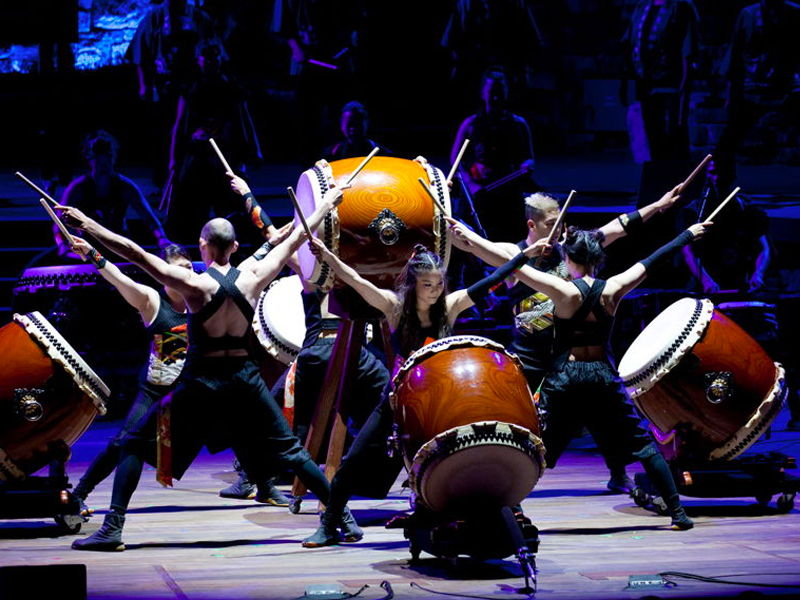 Your heart will be beating as loud as the drums in total awe and excitement this April 6 as you witness the iconic group TaikoProject take center stage at Orpheum Theater - Omaha. Immerse yourself in the heart-pounding performances filled with enchanting rhythms, exquisitely choreographed exchanges, incredible dances, and hypnotic harmony of one of "America's Cultural Treasures." Listening to the combination of loud drums, flutes, zither, xylophones, and other instruments is a visceral, artistic thing you need to experience. This show will enhance your deep appreciation of Japanese culture and its impact on the world without compromising the high entertainment value. Get your tickets today, and don't miss this unique opportunity to witness the modern American style of taiko, blending traditional forms with an innovative and fresh aesthetic. Hit the "Get Tickets" link to reserve your tickets today!
Taiko Drumming is a Japanese instrument playing. Taiko performances are characterized as focusing on rhythms. The ensemble play on the barrel-like drums, which can be big or small. Accompanying the rhythms are the vocals, strings, and woodwind instruments like flutes. Taiko has deep roots in Japanese culture. Its beginnings can be traced back to their folklore. Its background goes back to the 6th century and is a shared culture with other Eastern Asian countries (Korea and China). Taiko drumming became a performance staple in 1951, thanks to the pioneering work of Japanese drummer Daihachi Oguchi. It became popular in Japan after a decade with many communities forming groups and adding new styles to the original. As the 21st century came, many groups came out of other countries like the US, Australia, Canada, Brazil, and European countries.
In the US, TAIKOPROJECT became the most popular taiko group. The group was established in 2000, the founders were rising taiko drummers Bryan Yamami and Masato Baba. When they started, they had one goal in mind and that was to blend traditional Japanese styles with modern innovations. They had big dreams and high potential. Through hard work, the small team slowly grew into a big one.
After some years of performance, and adding more members, they competed in the prestigious Tokyo International Taiko Contest in 2005. They won, rising above other Japanese groups. The success gave them the chance to gain attention. That same year, they performed for the Mitsubishi Eclipse commercial, a huge deal since it became the first commercial in the US to showcase the traditional music style.
After their initial success, they went on to perform at multiple big events. They performed for the Academy Awards, Grammy Awards, The Voice, The X-Factor, Jimmy Kimmel Live, and the iHeartRadio Music Festival. Also, the group has worked with the biggest names in the music industry such as celebrated composer Hans Zimmer, Stevie Wonder, Alicia Keys, John Legend, Squeak E. Clean, and Diplo.
To bring the art of taiko to as many people as possible, they also have toured non-stop. They have performed in many theatres around the US.
Catch TAIKOPROJECT in their performance at the Orpheum Theatre in Omaha, this coming April 6, 2024. Get tickets now before they sell out!