Orpheum Theatre | Omaha, Nebraska
One of the country's long-time highest-rated programs on TV is coming to life right at your hometown theater! Wheel Of Fortune Live! is the place to be where you can have a chance to win amazing prizes including $10,000, a trip to Paris, and many more live on stage! So, "Get off the couch and behind the 'Wheel'." by shooting your shot at Wheel Of Fortune Live! at Orpheum Theater – Omaha on Sunday, November 27th, 2022. Produced by Right Angle Entertainment in partnership with Sony Pictures Television and UTA, this is your chance to finally win big exciting prizes as you get to spin the wheel yourself! What are you waiting for? Book those tickets now!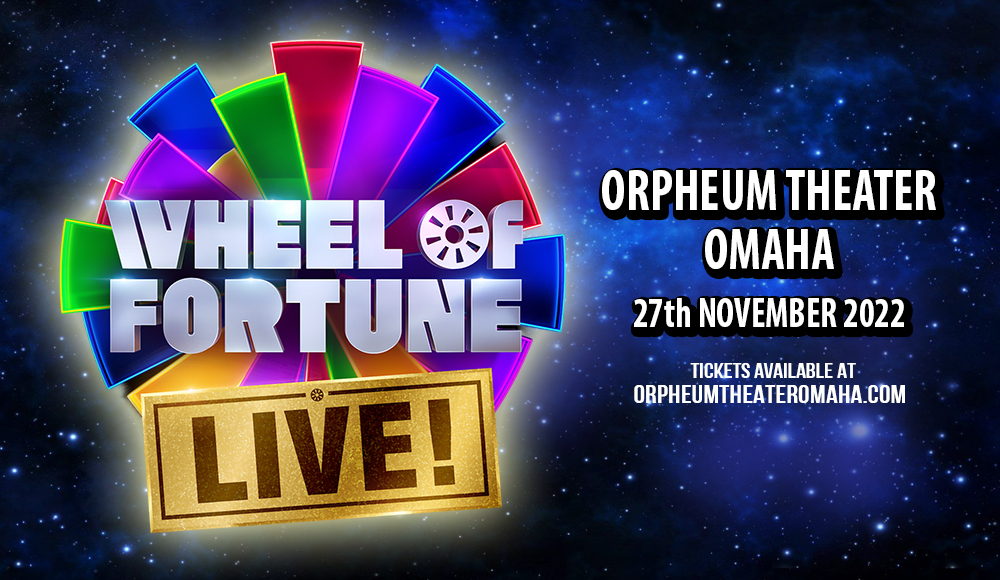 Being its first-ever live tour, Wheel Of Fortune Live! is coming over to local hometown theaters to bring the immersive show experience right where fans are at. Like how it goes on the long-time hit game show, attendees themselves can audition to head up on stage, spin the iconic wheel and win exciting prizes including $10,000, a trip to Hawaii, Paris, and so much more at every show!
Audiences on their seats also have the chance to win cash and other exciting prizes! At Wheel Of Fortune Live!, everyone has the chance to join in the fun and win big!
"This partnership with Right Angle presents an opportunity to expand our reach to give more people a live experience as close to being on the televised show as you can get without actually being in the studio," shared Suzanne Prete, Executive VP, Game Shows for Sony Pictures Television. "We look forward to providing this incredible local immersive experience to people who might not otherwise make it out to Los Angeles to be on the set with Pat and Vanna."
With the show on its 39th season since its conception in 1975, Wheel of Fortune is now even more accessible and within reach to everyone as they bring the set to local theaters near their fans who can finally have the chance to win big!
From your TV screens to the big stage, this is your chance to finally be part of the hit game show where you can spin that wheel, solve those puzzles, and win big! Coming to theaters across North America, don't miss its stop at Orpheum Theater – Omaha this November 27th by booking your lucky tickets now!