Orpheum Theatre | Omaha, Nebraska
EVENT CANCELLED. Please contact your ticket point of purchase to claim a refund on your tickets.
It's Dark, it's Loud, it's literally designed to scare the s*** out of you! it's going to be a show unlike anything else you have ever seen! So, if you like your rock music heavy, and you like your horror movies chilling, then this show is made just for you! Shock-Rocker Alice Cooper brings you Hard rock psyco-drama horror show! Are you ready to be shocked?! Drawing equally from horror movies, vaudeville, and garage rock, the group created a stage show that features electric chairs, guillotines, fake blood and boa constrictors! Coming to Orpheum Theater, Omaha on Tuesday 7th April 2020. Get your tickets now because these tickets are going to sell out shockingly fast!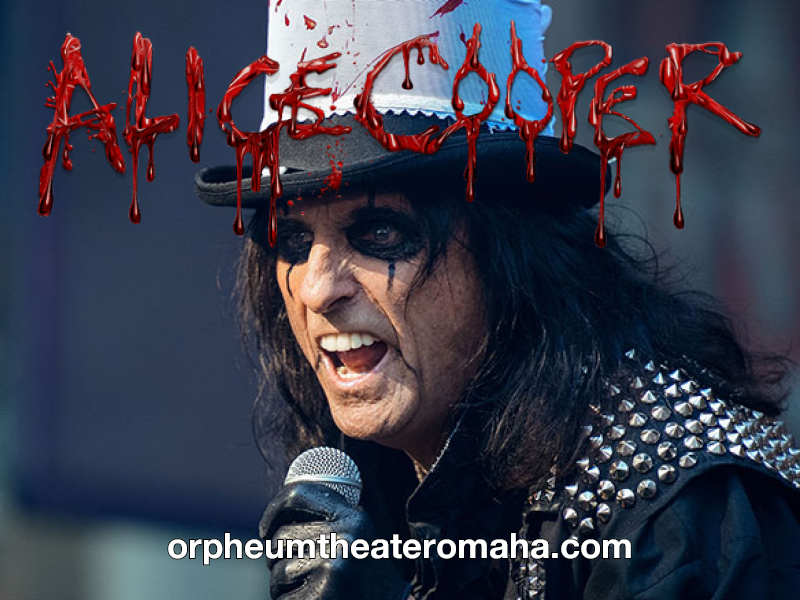 Alice Cooper brings his own brand of rock psycho-drama to fans both old and new, enjoying it as much as the audience does. Known as the architect of shock-rock, Cooper has rattled the cages and undermined the authority of generations of guardians of the status quo, continuing to surprise fans and exude danger at every turn, like a great horror movie, even in an era where CNN can present real life shocking images. Alice Cooper pioneered a grandly theatrical brand of hard rock that was designed to shock. He continues to tour regularly, performing shows worldwide with the dark and horror-themed theatrics that he's best known for.
"Alice Cooper review – a potent brew of sex, death and pantomime villainy. He strides out of his "nightmare castle", with top hat and twirling cane, and kisses a ghost bride (his wife, Sheryl Goddard) who disappears in smoke. Half the time it's like a low-budget slasher movie soundtracked by hard glam rock, especially when an actor has her throat theatrically slashed by a sabre-wielding masked slayer. The sight of the straitjacketed singer being restrained from attacking a baby (thankfully, a doll) with a meat cleaver is slightly more disturbing. Cooper, though, gets his comeuppance – by being apparently guillotined. The giant contraption and fake "Alice" head have been part of the act for aeons." – Dave Simpson, The Gardian.